1240 West Chester Pike, Suite 213
West Chester, PA 19382-9100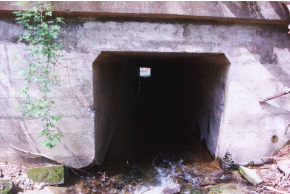 "

I didn't mention this in my memorandum, but I paraphrased and, in some instances, lifted my comments verbatim from a letter which Chuck Dutill had sent to me a few weeks ago. Chuck has been very diligent and has done an excellent job on this matter and I wanted to give him the appropriate credit."
(Law Firm Senior Partner retained by Large Commercial Facility)
"

You completed requests quickly and provided a strong evaluation for all issues . . . Bills from Heritage were fair and reasonable. . . . Your solid, technical answers

were

impressive, especially because you were still able to explain them clearly for lay people."
(Partner, Large Law Firm)
Stormwater Culvert Adjacent to Residences Affected by Flooding Caused by 100-Year Rainfall
(Past Heritage Expert Witness Case in Philadelphia Area for which Chuck Dutill found major error in flood analysis by original engineer)
A culvert that failed catastrophically resulting in injury and death
(Heritage Expert Witness Case in Mississippi)