Litigation

Experience

Summary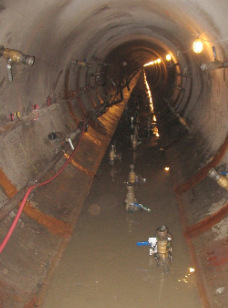 "The direct went well and accomplished what I wanted . . . You were only nicked in cross . . . I especially appreciated that your demeanor was unchanged when moving from direct to cross . . . in particular, there was no move to a combative approach."
(Senior Defense Partner after Testimony)
"

You are the best expert witness I've ever worked with . . . extremely knowledgeable with excellent credentials, but easy to work with . . . very hard

wo

rking and very helpful . . . excellent id

e

ntification of issues . . . You provided effective assistance during trial, and unimpeachable, understandable testimony."
(PI Attorney of 35 years, after trial for which Mr. Dutill attended all, provided ongoing input, and testified)
Stormwater Tunnel Approximately 150 Feet Below Ground Responsible for 2 Deaths
(Past Heritage Expert Witness Case in Minneapolis-St. Paul Area)
1-mile long pond on beach near Atlantic City, NJ lasting for days, as predicted in testimony by Chuck Dutill and as strongly disputed by the US Army Corps of Engineers and NJ DEP
(Past Heritage Expert Witness Case in Federal Court

)
The following is a summary of the expert witness experience of Chuck Dutill, P.E., D.F.E. of Heritage Technical Services:
Issued 195 to 200 expert reports addressing many factors, including sewer systems, septic systems, sanitary sewage, pollution, hydrology, stormwater, flooding, hydrogeology, erosion, grading, floodplains, wells, mold, overflows, and air quality.
Deposed 45 to 50 times as an expert for both plaintiffs and defendants addressing many issues, including wastewater treatment, septic systems, groundwater, contamination, remediation, stormwater, flooding, hydrology, drainage, pumping systems, hazardous waste, and standard of care.
Qualified and testified in court and at arbitration hearings 40 to 45 times (including in jury and non-jury trials) as an expert for both defendants and plaintiffs addressing many issues, including sewers, backups, wastewater treatment, surface water, hydraulics, runoff, hydrogeology, aquifers, piping systems, spills, and safety.
Forensic cases have comprised federal and state court cases and have included damages ranging from $25,000 to approaching $1 billion, with most between $100,000 and $5M. Provided expert witness services for environmental criminal, toxic tort, and many wrongful death cases. Cases have occurred in 35 to 40 states and have involved allegations concerning approvals, personal injury, damages, illegal facilities, and the correction of problems.
Approximately 30% of professional time has been spent providing expert witness services nationwide for over 45 years.
40 to 45% of expert witness work has been for defendants.
55 to 60% of expert witness work has been for plaintiffs.
Attended deposition or trial testimony of opposing witnesses or attended mediation in 15 to 20 cases to assist retaining attorney.
Involved with 70 to 75 expert witness cases that have included Alternative Dispute Resolution (ADR) approaches, comprising mediation and arbitration.
Available to consult on non-litigious matters.
Licenses and certifications:
Professional Engineer - since 1982
Professional Planner - since 1991
Board Certified Forensic Engineer - since 2017
A list of attorney references is available and can be forwarded upon request.

1240 West Chester Pike, Suite 213
West Chester, PA 19382-9100